For me, the journey of BeDazzle Hair Sista LLC began as a deeply personal endeavor. As a single Black mother raising two incredible daughters, I've faced the challenges of balancing work, family, and self-care. Every morning, the ritual of getting ready for the day reminded me of the precious moments I had to spare for myself. With my daughters by my side, I realized that my appearance wasn't just about aesthetics; it was about the message I was sending them – the importance of self-love and confidence.
During one of these mornings while struggling with my hair, I had an epiphany. I understood the struggles that Black women like me were going through – the desire to look and feel their best while juggling numerous responsibilities. That's when I knew I had to do something about it. My mission became crystal clear: to provide a solution that offered top-quality wigs and hair extensions and instilled a sense of empowerment and self-assurance.
This journey has been about more than just business; it's about creating a legacy of strength and resilience for my daughters and all Black women. BeDazzle Hair Sista isn't just a brand; it's a testament to the power of embracing our natural beauty, defying odds, and finding confidence in our uniqueness. With every wig and hair extension we offer, we're sending a message of sisterhood, empowerment, and the unwavering belief that every woman deserves to feel stunningly confident in her skin.
Join me in this journey, as we uplift each other and build a legacy of confidence, one beautiful strand at a time.
At BeDazzle Hair Sista LLC, we believe every woman deserves to feel like her best self regardless of circumstances. We are rooted in the belief that hair isn't just hair – it's an extension of your identity and should reflect your inner radiance. Our purpose is beautifully straightforward: to provide you with quick, hassle-free solutions that effortlessly restore your confidence, leaving you feeling empowered and radiant. We proudly offer a range that includes 100% Raw Remy Virgin Hair and cutting-edge alternatives, all backed by our steadfast commitment to exceptional quality, ensuring your satisfaction without compromising affordability. In valuing our customers and community, respect and appreciation remain at the core of our ethos.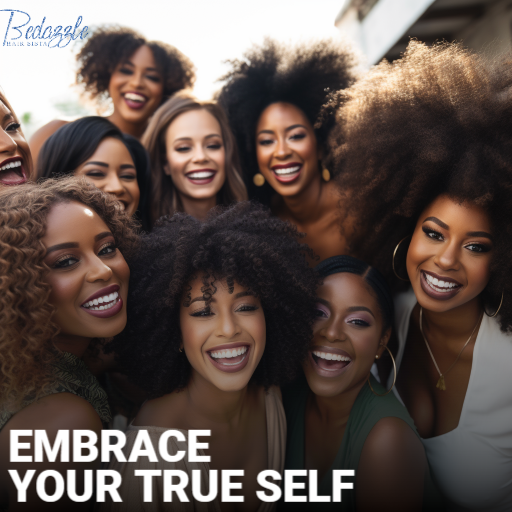 Embrace Your True Self as a black woman who proudly embraces the artistry of wigs and hair extensions, a symphony of self-expression and confidence. Let each strand narrate the story of your journey, an ode to your resilience and individuality. With our meticulously crafted offerings, we empower you to adorn yourself authentically, nurturing a radiant self-assurance that radiates from within. Embrace the transformative power of your choices and radiate the unapologetic confidence that is uniquely yours, inspiring a world that celebrates the beauty of diversity.
Collaborating with premier hair factories in the industry, we guarantee that our products are meticulously crafted with the highest level of precision and care. Our top-tier quality is proven through rigorous testing and exceeding standards. From hand-tied top closures to lace frontals, wigs, bundles, and clip-in extensions, each individual stands is a testament to our unshakable dedication to exceptional quality.
US Standard shipping in 2-5 business days through USPS, FedEX, and UPS. Outside the US may take up 15-20 days.
For every purchase you make, we ensure you receive a tracking number without fail.
SELLER PAYS THE RETURN SHIPPING FEE
Quality problem/Wrong Item/Wrong Color
BUYER PAYS THE SHIPPING & CUSTOM FEES