Beauties who are on the hunt for a luxurious new hair-do can now enjoy some #HairGoals without spending membership fees. BeDazzle's Hair Sista Silk Base Lace Wigs are made with 100% human hair, two to three layers of natural looking lace, and invisible knots which make your head look like it has never been bald before! Easy to install and perfect for beginners wearers too. Forget about having to bleach your scalp every time you want a different color or style and get down with these glam wigs so you can go ahead and win at life all day long.
*************What You Receive************
1- 4×5 Silk Base Wig
************Product Information*************
-Lengths: 14-24″ inches
-Hair Type: 100% Virgin Human Hair Wig (Can be dyed)
-Lifespan: One year or more (with proper care)
-Color: Natural Black 1B, Brown
-Style: Brazilian, Malaysian, Indian, Peruvian
-Lace: 4×5 Silk Base Lace
-Cap: Small, Medium, Large
-Density: 180%
***For all customizations allow 5-15 business days to customize, then ships***
***********Proper Care for Extension Longevity********* 
 Straight & Wavy Hair Styling Tips:  
Always Comb/Brush hair extensions starting at the bottom and work your way up gently.

 

Avoid pulling, combing and brushing hair extensions at weft. (Hair will last longer)

 

Always Air dry hair extensions after washing. 

 
Hair can be flat ironed, bleached and dyed. Like your own hair applying heat, bleaching and coloring can change hair quality. 
For best results: Wash extensions once or twice a month. Use quality shampoos, deep conditioners, and products designed for natural hair. Moisturize as needed and deep condition after shampooing. 
MUST READ!!***Applying heat, bleach and color can change hair quality. We recommending applying a heat protectant before using heated styling tools and a professional stylist to color hair extensions*** 
As a result of the hair we sell you will feel Beautiful, Confident, and Empowered. Our mission is to help you look  and feel your absolute best no matter the place, time or activity. We offer clients natural hair products, styling tools and more. A good foundation from the start can manifest into something extraordinary.
*****Silk Base vs Normal Lace*****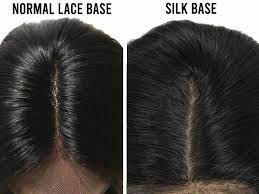 *****Know Your Measurement*******