Reduce stress and get back some much-needed me-time. Try our revolutionary dread loc wigs today for an easier way to get ready!
****What You Receive****
************Product Information*************
-Length: Short
-Hair Type: Synthetic Fibers (High Quality Heat Resistant up to 360 degree)
-Color: 1B Natural Black, T1B/30, 613 Blonde, T1B/27, T1B/Burgundy, Silver/Grey
-Style: Dread loc
-Wig Cap: Average Size 20″-22.5″ (Adjustable Straps. Can be adjusted to fit Most Heads)
**** Key Features****
1. Natural Look and Feel: Our Instant Locs Wig is crafted with soft, synthetic fibers that mimic the texture and appearance of natural locs, giving you a seamless, realistic look.
2. Easy to Wear: Our glueless wig is designed for effortless application and removal, making it a breeze to switch up your style anytime. Put it on and secure it with adjustable straps for a comfortable and secure fit.
3. Versatile Styling: The Instant Locs Wig comes pre-styled, so you can wear it as-is or customize it to suit your unique personality. Experiment with various updos and half-up styles or wear it down for a classic locs look.
4. Long-lasting and Durable: Made from high-quality synthetic fibers, our Instant Locs Wig is designed to withstand daily wear and maintain its style and shape for a long-lasting, beautiful appearance.
5. Protect Your Natural Hair: By choosing our Instant Locs Wig, you're not only getting a stunning new look, but you're also giving your natural hair a break from the stress of styling and manipulation, promoting healthier hair growth.
****How to Care****
 Hair Styling Tips:  
Always use Fingers to separate hair extensions gently.

 

Avoid pulling, combing and brushing. (Hair will last longer)

 

Store wig on mannequin head or plastic bag in cool dry place.

Always Air dry after washing. 

 
For best results: Wash once or twice a month. Use 1 tablespoon of synthetic wig shampoo or liquid laundry detergent in sink full of cold water. Soak for 5 minutes and rinse well. Refill sink with clean cool water. Apply 1 tablespoon of synthetic wig conditioner and gently work through wig with fingers. Rinse with cool water, pat excess water out of wig and air-dry.
MUST READ!!***Hair comes pre-styled and recommend not combing or untwisting to avoid damaging style. Alway wear a stocking cap to protect your scalp. Minimum shredding and tangles are normal***
***Client Reviews***
More Ways to Wear
This wig has no limits on styling. Wear up or down you'll still look amazing.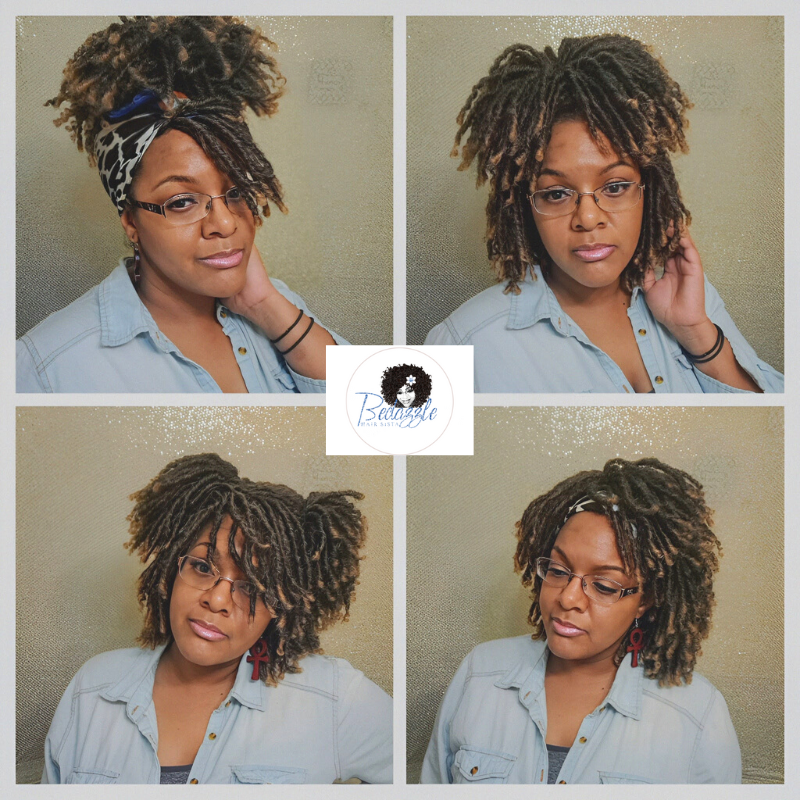 More Details
Made with premium synthetic fibers that are surprisingly soft and lightweight.
Breathable Cap
Available in More Colors
Switch up your look instantly without chemicals.