***Product Information***
-Lengths: Bundles 12″-24″ inch, Lace Closure: 10″-20″ inch
-Hair Type: 100% Virgin Human Hair REMY!
-Color: Natural Black 1B (can be dyed)
-Style: Brazilian, Malaysian, Peruvian
-Weft: Double Stitch
-Lace: Swiss
Full Head: 1-2 bundles for lengths up to 16″ and under,  3-4 bundles for lengths 18″ and up.
Benefits:
Confidence Boost: Experience the confidence that comes with stunning, natural-looking hair that perfectly complements your style and persona.
Durability: Our 100% Virgin Remy Human Hair extensions are designed to last, retaining their luxurious texture and appearance even after multiple washes and styling sessions.
Low Maintenance: Effortlessly maintain your flawless look with minimal fuss. Our extensions remain lustrous and vibrant, requiring only simple care routines.
MUST READ!!***Minimal shedding is normal
How to Care:
Maintaining the elegance of your Jerry Curl extensions is easy:
Use sulfate-free and alcohol-free hair products to retain the natural oils of the hair.
Gently detangle from tips to roots to prevent breakage.
Store in a satin-lined bag or wrap with a satin scarf before sleeping to minimize friction.
Frequently Asked Questions:
Q: Will these extensions match my natural hair color?
A: Absolutely! Our Jerry Curl extensions come in natural black, but you can dye hair for seamlessly blend if necessary.
Q: How long do these extensions typically last?
A: With proper care, you can enjoy your extensions for up to 12 months or more.
Q: Can I swim or exercise with these extensions?
A: Yes, you can! Treat them like your natural hair, but remember to wash and condition them afterward.
Q: Are these extensions easy to install?
A: Absolutely. For a hassle-free experience, we recommend seeking a professional stylist's assistance. Detailed instructions are included if you choose to install them yourself.
Q: Can I straighten or curl the Jerry Curl pattern?
A: Yes, you can! Our extensions are versatile and can be styled with heat tools, just remember to use a heat protectant.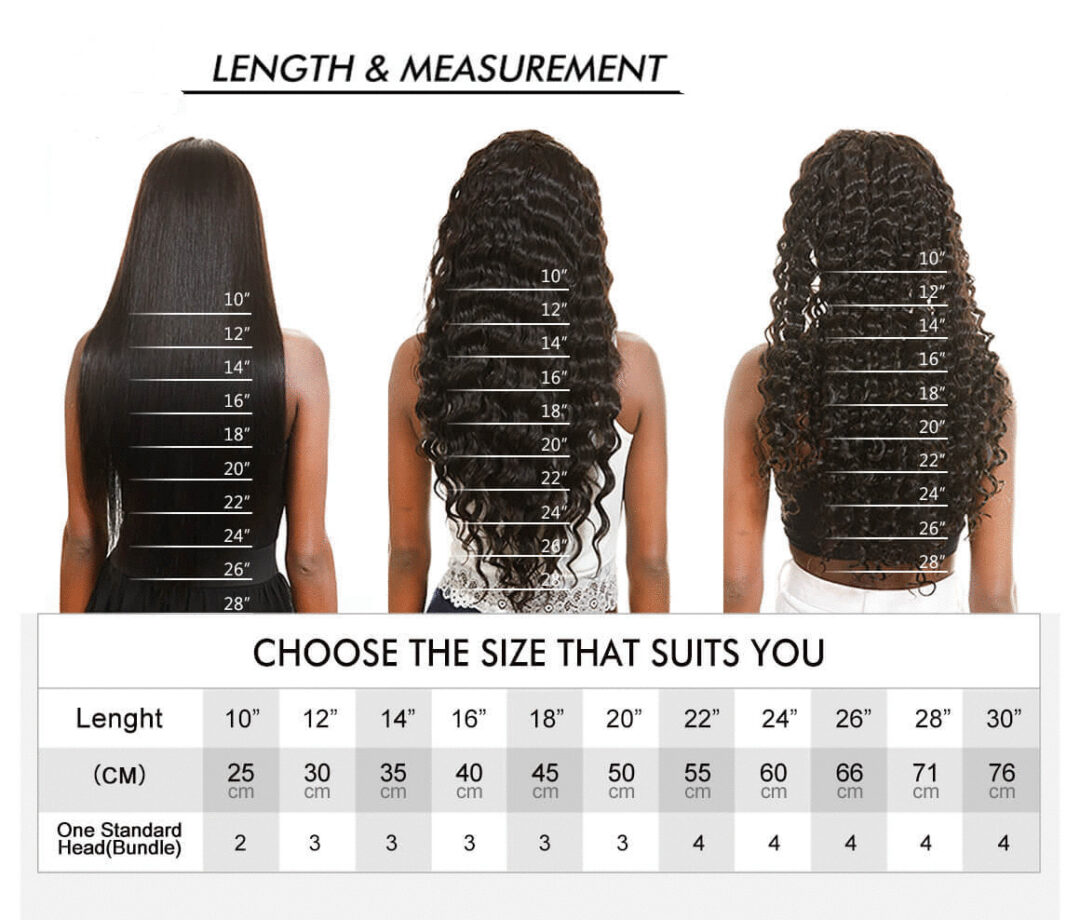 Length Chart