***Product Information***
 -Lengths: Bundle Deals 12″-26″ Lace Frontal: 12″-18″ 
 -Weft: Machine Double Stitch 
 -Lace Frontal: Swiss
 -Type: Brazilian, Indian, Malaysian, Peruvian 
 Full Head: 1-2 bundles for lengths up to 16″ and under, 3-4 bundles for lengths 18″ and up. 
Benefits:
Elevate your beauty and confidence with stunning, high-quality hair.
Experience minimal tangling and shedding, ensuring long-lasting wear.
Enjoy the convenience of versatile styling options for any occasion.
Breathable and lightweight extensions for comfortable all-day wear.
How to Care:
Gently detangle your hair with a wide-tooth comb before washing.
Use sulfate-free shampoo and conditioner to maintain the hair's natural shine.
Air-dry or use a diffuser on low heat to preserve the wave pattern.
Store your extensions in a cool, dry place when not in use.
MUST READ!!***Minimal shedding is normal.
Hair Installations: Our extensions are designed for seamless integration, creating a natural flow from your scalp to the ends. Achieve a salon-quality hair installation effortlessly, whether you're new to extensions or an experienced wearer.
Customer Questions & Concerns:
Q: Will the waves hold their shape after styling?
A: Absolutely! The deep wave pattern is designed to retain its shape, allowing you to enjoy stunning hairstyles.
Q: How long can I expect the hair to last?
A: With proper care, our Raw Virgin Human Hair extensions can last over a year, maintaining their quality and luster.
Q: Will the lace frontal blend with my skin tone?
A: Yes, our 13×4 Lace Frontal is carefully crafted to match various skin tones, ensuring a natural-looking hairline.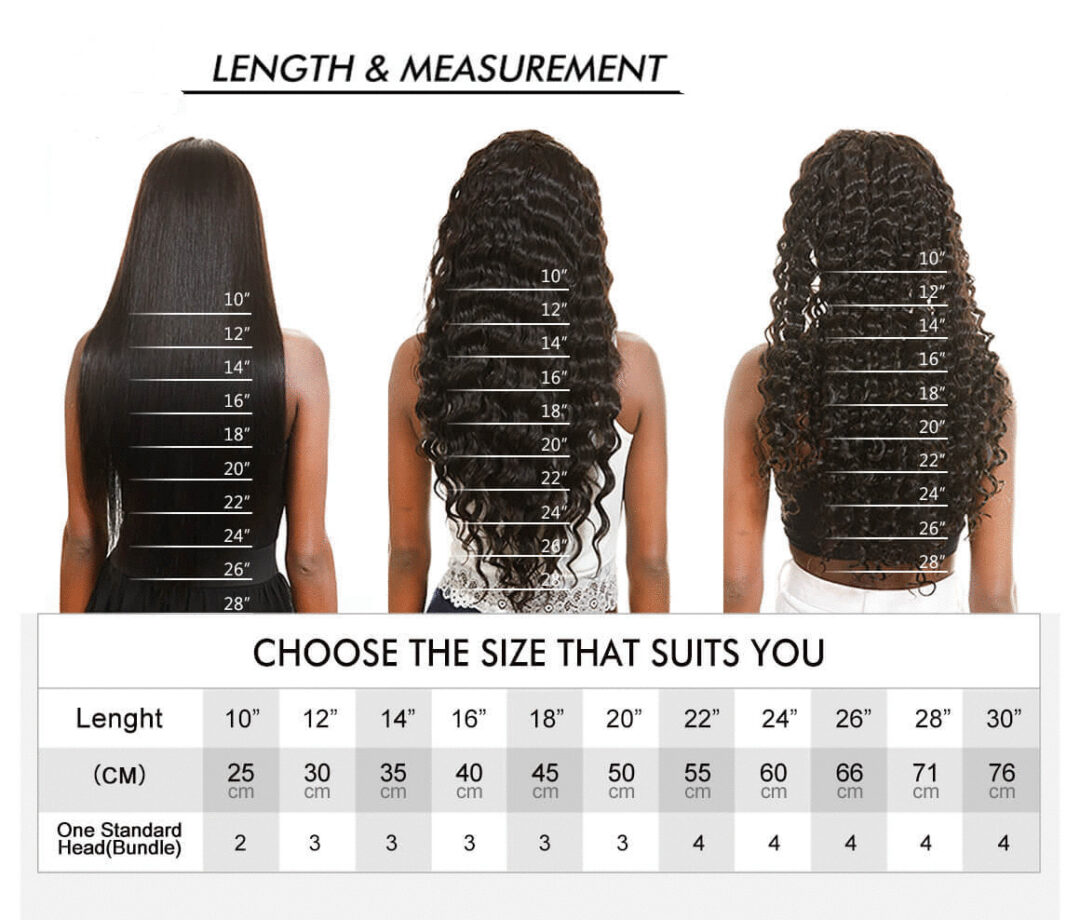 How to Measure Your Bundles