You'll go Wow! when you see what we have in store for your next hairstyle. Be dazzled with the beauty of our Kinky Curl Bundles and Frontal which features Brazilian Virgin Human Hair, lightweight constructions materials that will keep your newly installed strands looking fresh all week long. Find out how simple it is to step into a new world of femininity like never before with this beautiful bundle set!
*************What You Receive************
3 – Full Bundles
1 – 13×4 Frontal
************Product Information*************
-Lengths: Bundles 12″-26″ inch, Lace Frontal: 12″-18″ inch
-Hair Type: 100% Virgin Human Hair REMY! (collected from one donor)
-Lifespan: One year or more (with proper care)
-Color: Natural Black 1B (can be dyed)
-Style: Brazilian, Malaysian, Peruvian
-Weft: Double Stitch
-Lace Frontal: Swiss
Full Head: 1-2 bundles for lengths up to 16″ and under,  3-4 bundles for lengths 18″ and up.
 ***********Proper Care for Extension Longevity********* 
 **CURLY STYLES NEED TO BE HANDLE GENTLY TO AVOID LOSING THEIR FABULOUS RINGLETS. DO NOT USE COMBS & BRUSHES INSTEAD USE YOUR FINGERS TO COMB AND SEPARATE IF NECESSARY** 
Curly Hair Styling Tips:  
Always use Fingers comb through hair and separate hair extensions starting at the bottom and work your way up gently.

 

Avoid pulling, combing and brushing hair extensions at weft. (Hair will last longer)

 

Always Consider hair shrinkage with tighter curls.

 

Always Air dry after washing. 

 
Hair can be flat ironed, bleached and dyed. Like your own hair applying heat, bleaching and coloring can change the quality. 
For best results: Wash extensions once or twice a month. Use quality shampoos, deep conditioners, and products designed for natural hair. Moisturize as needed and deep condition after shampooing. 
MUST READ!!***Applying heat, bleach and color can change hair quality. We recommending applying a heat protectant before using heated styling tools and a professional stylist to color hair extensions*** 
As a result of the hair we sell you will feel Beautiful, Confident, and Empowered. Our mission is to help you look  and feel your absolute best no matter the place, time or activity. We offer clients natural hair products, styling tools and more. A good foundation from the start can manifest into something extraordinary.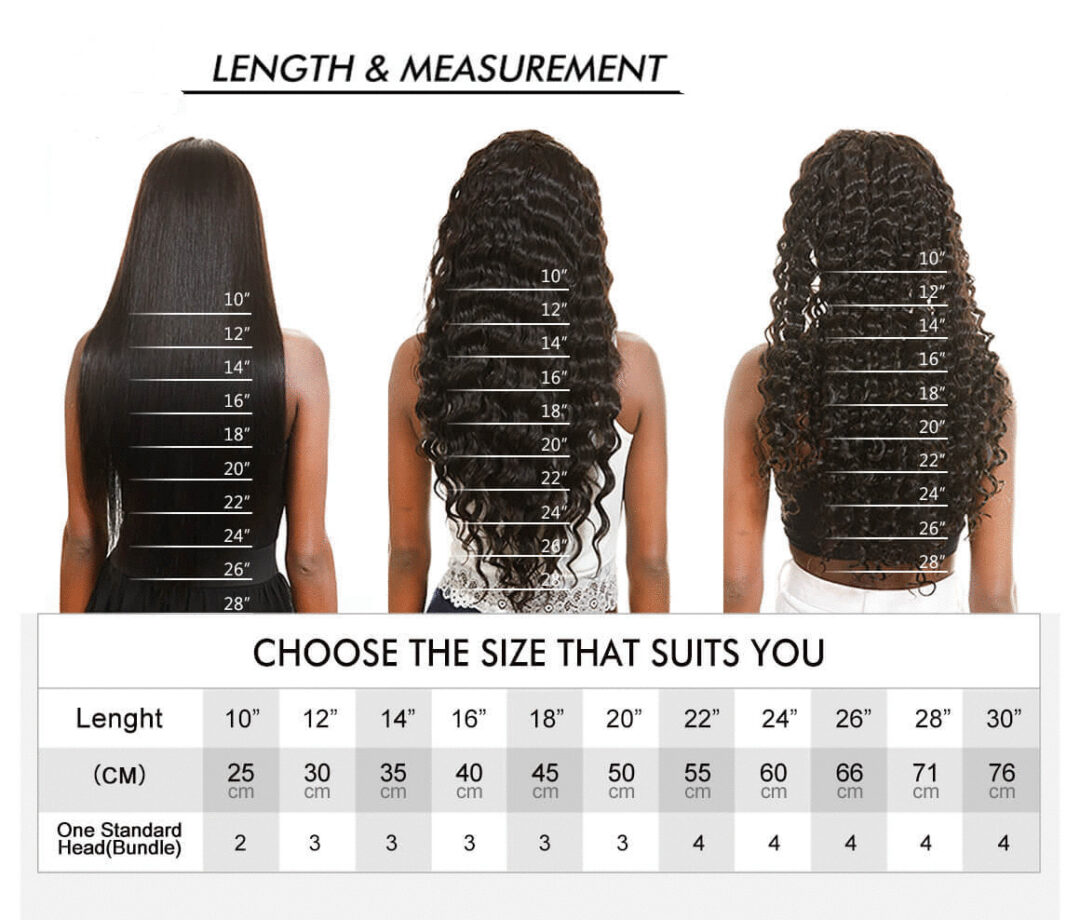 Length Chart