Most beginners looking for hair extensions aren't aware that there are two types of hair extensions in the market that includes human hair. Distinguishing between the two can be difficult, since both types of hair extensions look similar and can easily be confused with each another.
To differentiate between the two, you need expert knowledge. We might be able to help you out with that. Let's learn more about human and synthetic hair extensions.
Human vs. Synthetic Hair Extensions
Before diving into the differences between the two, let's explore what human hair and synthetic hair extensions are.
Human Hair Extensions
hair extensions are usually created with natural human hair, and look more natural when used. Hair extensions are made up of the medulla, cortex, and cuticles. Each of these layers together makes up the human hair strand and brings natural shine to the texture of your hair. There are several types of  hair extensions including the following:
Virgin hair that hasn't been chemically treated.
Remy hair, which has cuticles running in the same direction, which gives them a silky texture.
Synthetic Hair Extensions 
Synthetic hair extensions are created with the help of plastic, acrylic, polyester, and other high-quality fibers. These fibers contribute to their texture, color, and appearance. While synthetic hair is made typically of fiber, they cost far less than hair extensions. Some of the main features of a synthetic hair extension include the following:
They're available in several colors, sizes, and textures.
They're more affordable.
The most natural-looking extensions are a blend of natural and synthetic fibers.
Human vs. Synthetic Hair Extensions: The Differences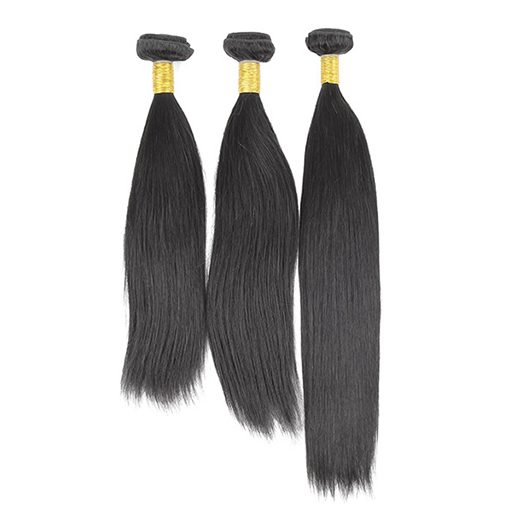 Long-term Durability
Both human and synthetic hair extensions have different durabilities. While hair extensions can be used for 6 months, synthetic hair can only be used for 3 months at a time. This is due to the water permeability difference in both textures.
Quality of Extensions 
When you're on the search for the perfect look, the quality of the hair extension is what matters most. While synthetic hair is more economical, getting hair extensions will be the perfect option. The natural strands would give a silkier, lightweight, and luscious look. However, synthetic hair might have rough-looking edges, and feel brittle.
Caring for the Hair
Caring for the extensions can make or break the overall investment; hair needs to be washed, massaged, and styled regularly to protect the cuticles the hair. On the other hand, synthetic hair requires minimum care, but can often appear brittle and dry regardless of the products you use.
Finding Best Hair Extensions
Bedazzle Hair Sista has a wide hair extension collection that you can choose from. Whether you need human hair weave bundles or clip-in hair extensions – they have it all. Shop for hair extensions online with Bedazzle Hair Sista. Visit the website, or give them a call to place your order, today!