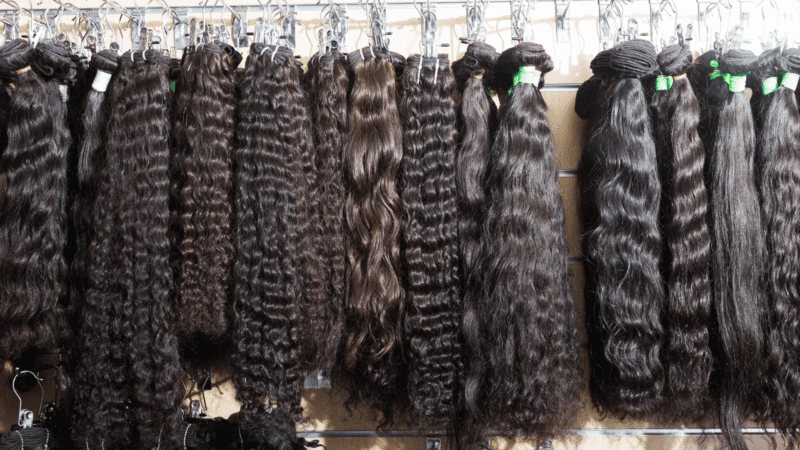 Don't Skimp on Quality Avoid Tangles & Shedding!
Quality is being used loosely in the hair industry, and consumers don't always get what they're paying for. Most companies will use this word as a marketing tool to boost product sales, making it hard to distinguish where to shop. We are dedicated to creating hair shopping more accessible by providing information that will help you tell the difference between quality & poor quality.
Hair Extensions have evolved over the last ten decades, and it can be hard to spot poor quality. Extensions can are using human hair, animal hair, and synthetic fibers. Everyone from celebrities to everyday people rocks hair extensions. There's no question as to why the hair business is a billion-dollar industry. People spend thousands of dollars a year on their hair. Before purchasing your hair, extensions research to understand what looks you want to achieve. Extensions add length, fullness to thinning hair, protective styles, explore colors, fashion, and fun.
This guide gives you everything you need to boost your confidence, beauty, and peace of mind. Also, knowing the expectations of the hair is essential both human hair and synthetic hair have advantages and disadvantages. How to know which is right for you solely depends on preference and budget
Here's Something to Smile About!
Wefts: Our tracks are double stitch & glued to help reduce shedding.
Weight: The standard weight of sew-in hair bundles is 100 grams or about 3.5 oz. Is the bundle cheaper because it weighs less.
Human Hair: We sell 100% virgin human hair; most clients love this. If you are looking for more affordable options, the hair will not last as long as human, color, or style, then consider synthetic.
Remy: Are healthy hair with cuticles facing the same direction to reduce the chances of tangling.
Virgin Hair: Has some processing, including aligning the cuticles. We process our hair with stream & water to ensure hair remains healthy.
Single Donor: Collected only from the ponytails of human donors in Brazil, Malaysia, India, and Peru. One donor ensures healthy cuticles and no tangles.
Organic Premium Synthetic Fibers: We sell high-quality organic premium synthetic materials that creates the illusion of natural Remy. The realistic texture and movement mimics human hair strands that will make you believe it's natural human hair, but at a lower price. NO WORK REQUIRED! It makes it perfect for beginners and grab-go-ready wear in between sew-ins. (Synthetic Wigs) offers budget & beginner-friendly low maintenance style options.
Color: Virgin hair will lift to a #27 Honey Blonde from Natural Black. However, lifting to #613 is possible but does take time and patience. We recommend seeking a professional or consider purchasing #613 extensions to avoid damaging the hair.
Styling: Quality Human Hair extensions should not have an issue styling. However, you should always treat human hair like your own and take proper steps to keep it in good condition. Use quality shampoos & conditioners, applying heat protectant before using hot tools, and light oils to keep hair shiny will always give you the best results.
Tips to tell Human vs Synthetic Hair:
Human Hair is natural-looking, feels like actual hair, and the movement is incredible. Remy hair, you'll hear all over the place, but what does Remy mean? It means all the cuticles face in the same direction (downward), which contributes to its natural healthy look and will not matte or tangle. Look at the picture below; you can see the hair strand on the right is how healthy cuticles should look. The strand on the left is damaged cuticles.

Human extensions fall on the pricey side of the spectrum as opposed to synthetic hair. If you are seeking versatility with a natural look, this is the best hair for you. Lower good quality extensions alone can cost you between $150 to $300 healthy hair collected from multiple donors hair is thinner at the ends, while the higher quality pieces, such as the Remy Human Hair can cost between $250-$500 healthy hair collected from one donor hair is thicker at the ends. What makes it worth the investment is its quality, durability, and longevity. Healthy hair extensions are soft silky texture, natural shine, movement, and versatility. Restyling with a curling iron, blow-dryer, hot roller or flat iron, dying, and other styling products is a breeze.
The life span of your human extensions can vary depending on how you care for them. Yaki and Straight extensions can last for 1 to 2 years or more with proper care. Curly and wavy are about 3 to 6 months or more with proper care. Upkeeps on extensions should be regularly scheduled every 4 to 6 weeks, depending on one's lifestyle.
Synthetic hair is coated with silicone which gives it an unnatural shine and soft feel. This type of hair is easier on your wallet and great if you're seeking a low-maintenance quick style. Technological advances have changed the fibers of hair, given them a realistic natural texture and look.
However, synthetic extensions lack flexibility and tangle easily. Even the ones that state heat-friendly tends to change the texture and look of the hair. Synthetic hair can have a life span of 2 weeks to 6 months with proper care but eventually will matte, especially in the nape area. Washing and brushing the hair causes the silicone coating to break down, which will shorten its use.
Burn Tested & Results
-Human Hair – Burns rapidly, produces white smoke, turns into ash, and smells sulfur dioxide.
-Synthetic Hair – Plastic appearance, has an unnatural shine, hair melts like plastic when burned to produce black smoke and rolls into a ball.
Longevity
-Synthetic Hair – weeks to months (with proper care)
-Human Hair – 1 year or more (with proper care)
Styling
-Human Hair – Unlimited styling hair is more accessible to restyled and dyed.
-Synthetic Hair – Limited versatility
I used to spend lots of money on cheap hair. I did not understand the meaning of the word synthetic; it had the word hair on the packaged and came already colored and styled. I tried restyling the hair, which was an extremely difficult hint: Lacks versatility. Appling heat only caused the hair to melt and matte. Washing and conditioning were pointless; all that did was cause the strands to stiffen and tangle.
Regular hair products did not recreate the fabulous shine or soft texture the hair once had when I first purchased it. My once beautiful synthetic extensions remained a dry rat nest despite my best efforts. Money down the drain every two weeks; I spent $20 to $50 on hair that adds up. Lucky, I grew smarter, did more research on different types of hair extensions and which ones best suited the look I was striving to achieve.
Most people prefer extensions because they are great for protective styles, saving time on styling, or let you change your looks instantly. Understanding the difference between human and synthetic hair extensions saves time, money, and frustration.
Of course, Bedazzle Hair Sista would recommend you purchasing our 100% Pure Virgin Remy Human Hair Extensions for more extended use and cheaper hair quicker looks between sew-ins. We only obtain virgin Remy hair and premium organic synthetic fibers so you can achieve limitless style possibilities to matter your budget.